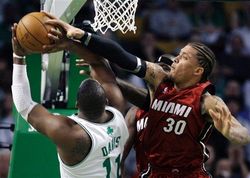 Miami has seemingly countless clubs and ways for players to get into trouble.
The other thing it has seemingly countless numbers of is golf courses. Ones you can play on pretty much 365.
To Michael Beasley's credit, when he got frustrated and down while disappointing the fans and staff in Miami, he sought solace on the course, not in the clubs, he told the Star Tribune.
"The golf course is not a team sport, it's a one-man show," he said. "I go out there by myself: Nobody can call me, I keep my phones in the car. I go out and play my nine holes alone and nobody knows where I am. Golf is like the only place in the world I can go right now and totally think and be one with myself. It's my one place I go if I'm mad, if I'm down, if I'm sad and my day is not going well."
Team sport? Because it was Beasley's teammates were a problem?
This winter he got traded from the Heat to the Timberwolves. What happens when he gets down in Minnesota in February?
"Why don't you improve your lie a little Mr. Beasley sir?" "Yes, yes winter rules."