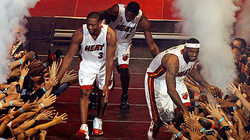 Enough with the speculation, let's roll the balls out on the court and play. Finally.
That was the core of what LeBron James, Dwyane Wade and Chris Bosh said when they sat down in front of the press at Heat media day Monday in Miami (televised on ESPN).
They sat down with Wade in the center.
"It's seems like a year since last July," Wade said. "There's been a lot said and a lot done since then. So we're happy, finally, to get to the basketball side of things."
They were also clear about the goal — LeBron said it was not championship or bust, "just championship." As for his past and all the things said about him this summer?
"For me, I'm moving forward…" James said." It's funny how things happen in life and how people react. A lot of people try to tell you what to do in life, and a lot of them don't have their own life in order. I thought that was funny."
The most prominent criticism came from Michael Jordan, Magic Johnson and Charles Barkley, who said they would never team up with their rivals.
"I make my own decisions," James said. "I still respect Mike, I still respect Magic, Charles… "They did a lot for me. They paved the way. But I can't live through those guys."
They are three of the most talented players in the league, but some have questioned how they would mesh. They don't.
"We came here to play together, we came here to play as a team," Bosh said. "People are taking the individualism a little too much. We're going to be good players, but we're all going to play together. That's the point"
Well, that and to have a little fun.
"We're going to have fun. We're going to make sure we have fun," Bosh said. "Whatever it takes to win, that's the part we have to grind out."
The Heat start the grind of training camp tomorrow up at Hurlburt Field and Eglin Air Force Base in Fort Walton Beach, up on the Florida panhandle.
Coach Erik Spoelstra said that the focus the first day of camp will be on defense. Because he's smart. With this roster the Heat are going to score plenty, but if they are going to seriously contend it will be about the defensive end of the floor.