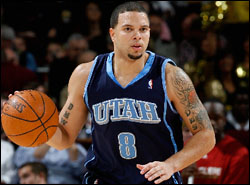 Al Jefferson has gone from the constant rebuilding project that is Minnesota to the most stable organization in the league in Utah. From the flatland to the Rockies. He went from Jonny Flynn at point to Deron Williams.
Jefferson gets how lucky he is, and who D-Will is, as he told the Salt Lake Tribune. (via Slam)
And like I've been saying, D Williams is Batman. He's Batman. He's the captain. He's the guy, you know. And I'm Robin. So I'm willing to do whatever. I'm not worried about jelling with him. I'm going to adjust to him. Whatever he needs me to do is going to be done. Because the first thing he said to me when I talked to him is, 'I'm going to make you an All-Star.' And when he said that to me, I believed him. He wasn't just talking. He wasn't just saying it because it sounded good. He really means that.

I never had the opportunity to play with a point guard like D Williams. … I've got the offense coming to me. Now, I'm in a situation where I don't have to have the ball the whole time. I don't have to worry about the double team the pushing out. This offense has been so good for so many years, all I've got to do is be ready to catch the ball.

As far as the pick and roll, I like the option of me picking and rolling, and also of picking and popping. I think I can do both. It's something I'm going to work with in D Williams in training camp to get that down pat, because I know he's going to be looking to pass that ball. I've got great hands, so I've got to be ready to catch it. And I think I can do a good job with that.

As far as my offense, I can catch the ball in the sweet spot. I don't have to work as hard to score now. I can catch the ball in the sweet spot and offense is going to put me where I need to be to score the basketball. The offense is perfect for me.
How Jefferson fit in with Utah will determine if they take a step back with Carlos Boozer gone. Things will be different in Utah this year.
But if Batman is leading the way with a good sidekick, things will be safe and secure for the franchise. Stable as ever.