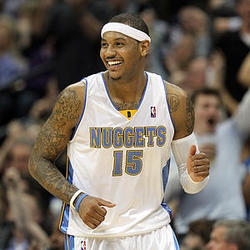 Carmelo Anthony is in the Nuggets locker room. The talks around trading him continue to swirl. Those two things we know…
So, now what?
We wait.
Wait for Anthony to speak at camp (which he may or may not do, things keep changing). Wait for someone to blink. For Anthony to sign a deal and go to New Jersey. For the Nuggets to decide they really have a shot to keep him. For the Bulls to call and say the Nuggets can have Noah. For anything.
Meanwhile we sift through some BS rumors around:
The Nuggets and Golden State Warriors apparently had some preliminary conversations, along the Steph Curry for Melo lines. But that only works for Golden State if Anthony signs an extension there, and he won't. Plus, new Golden State co-owner Joe Lacob said they would not exceed the luxury tax, which should concern Melo long term.
Charlotte had brief conversations about Gerald Wallace for Anthony, but those fell apart for the same reason — Anthony would not sign an extension in Charlotte. Also, another team not going over the tax line.
Finally, count the Philadelphia 76ers out of the Anthony sweepstakes for the same reason — no Melo extension.
So we wait.
What we really wait for is Anthony and the Nuggets to get on the same page, compromise a little and play nice with each other. For them to work together on a deal rather than undercut each other.
But we may have to wait a long time for that. We shouldn't have to wait long for Anthony to speak at media day.