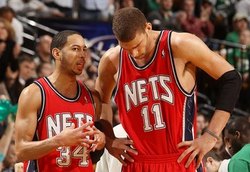 It's no fun when the talk of training camp is who is not there, not who is.
But that's where it stands for the Nets, who have made their play for Carmelo Anthony right at the start of training camp. That is the talk, whether Anthony will sign an extension to come to the Nets or whether a complex four-team deal falls apart.
Players need to try and ignore that. So far, Brook Lopez is doing a good job of that according to John Schuhmann of NBA.com.
"I, for one, have no idea what's going on," Lopez said.
Joe Smith said the team is doing its best.
"These guys are being professional about it," Smith said of his new team. "There hasn't been too much talk in our locker room."
It's probably hardest on No. 3 pick Derrick Favors, who goes from being the highly-touted draft pick to trade fodder. Welcome to the NBA, it's a business and it can be hard.
Nothing you can do but go out on the court and get ready for the season. The chips will fall where they fall. Lopez seems to have the hang of it.