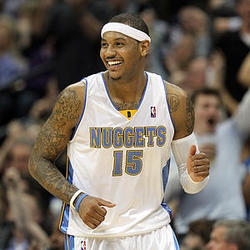 UPDATE 8:04 pm: The Daily News is now reporting that Anthony's people said he would not sign an extension in Philly. Which would make any other negotiations moot.
Basically, Melo's people trying to keep the Knicks and Bulls in play, the Nuggets keep looking for the best deal with little interest in making Melo happy.
Let me take another swing at the drum I keep beating: At some point both sides are going to have to compromise a little and just come to a deal. Right now they are like two four-year-olds fighting over a toy, at some point they will mature and figure this out or nobody will get to play.
5:37 pm: The Denver Nuggets and Philadelphia 76ers are talking about an Andre Iguodala for Carmelo Anthony swap.
That according to the Philadelphia Daily News. This trade would give the Nuggets a quality young wing player to replace Anthony, you can see why the Sixers would be interested. Also, Iguodala has three years plus a player option left on his player deal.
However, there would be a couple of questions about such a deal.
To make the salaries work, other players would need to be involved. Who are those players? It would determine how good a deal it is for both sides.
More importantly, would Anthony sign an extension in Philadelphia? They have some nice young players in Jrue Holiday and Evan Turner, but they are not a contender and not a market he mentioned as wanting to go to. (Is Philly's young core really as good as New Jersey's?)
The LeBron-level speculation about Anthony continues. We'll see if these talks have any legs. A lot of teams have reached out to the Nuggets, but that is different than really having a deal.