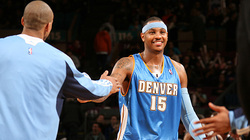 The rumors just keep flying around a four-team trade that would bring Carmelo Anthony to New York seems to be slipping away.
Why? Because Denver and Anthony can't seem to play nice together. So it looks more and more like they will have to play together on the court to start the season in what will be a very awkward union. It looks more and more that way.
Anthony wants to go to the Knicks. The Nuggets are pissed at Anthony and don't want to send him where he wants to go. Plus the Knicks don't have the best offer. The parameters of the much-discussed four-team trade (that would net the Nuggets a good haul) are in place, but two things are holding it up, according to Yahoo sports.
One is Anthony, who is hesitant to sign an extension with the Nets, a prerequisite of the deal going through. The Nets won 12 games last year and played before a lot of empty seats in the Meadowlands, and Anthony apparently isn't sold things will be different. The Nets have a new Russian billionaire owner, a new energy and will be in Brooklyn in a couple years — things are changing with that franchise — but that's not enough for Anthony.
No, Anthony and his CAA people keep pushing for the Knicks saying he wants to play for a winner. Which is crap — to get Anthony the Knicks would have to strip their roster down to Anthony, Amar'e Stoudemire and not much else, with no picks. The Nets are better positioned to be good long term. But you know, it's the Knicks. So he wants that.
Meanwhile, the Nuggets keep looking around for a better deal, and are considering even killing this deal to find a better one. They may want to ask the Toronto Raptors organization how well that same strategy worked out with the Vince Carter trade. Meanwhile, other teams in the deal are getting uncomfortable.
By the way, some are blaming new Nuggets general manager Masai Ujiri for this. Don't. There is a division within the Nuggets front office on how to handle this, but at the end of the day Josh Kronke makes the call. The buck falls to him.
We've been saying this since day one — Anthony and the Nuggets don't have to like each other, but they need to be civil and play nice to get something done that works for all of them. Right now, that's not happening. So a four-team deal is in a holding pattern and may slip away. Both the Nuggets and Anthony may come to regret that. Anthony wants the Knicks but is he willing to risk millions on a new CBA to make it a reality, because that may be the test. For the Nuggets, they may find fewer teams willing to play ball and teams like Chicago more likely to take pieces out of their offer rather than add them in. The Nuggets will feel the pressure to get something done just not to be left with nothing.
Play nice and work out some kind of deal. If you can't, you'll all come to regret it.
And in the mean time, Denver and Anthony will both have no fun being on the court together. That is going to be akwaard. Enjoy.