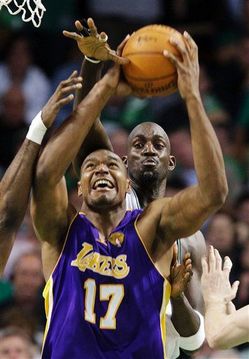 Everyone had talked about Andrew Bynum missing the start of the season. And he will. Plus more — like maybe the first month.
That's what he said at media day, as reported by Kevin Ding of the Orange County Register.
"I see it more towards the end of November," Bynum said of his return.
Bynum's knee surgery in July ended up being more complex than had been expected (cartilage was reattached), which meant his recovery time of a couple months was going to take longer than expected.
But combine the late surgery — Bynum went to the World Cup and Europe before going under the knife — with the more complex procedure and Bynum just being a slow healer and, well, here you go. He says late November and would anybody be shocked if it was later than that?
None of this changes the basic point for the Lakers — you need Bynum healthy. Not in November, in May and June. So you give him all the time he needs.