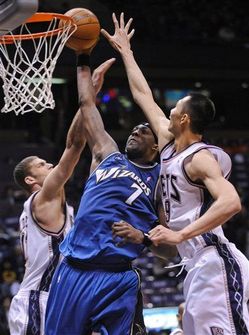 There's a couple of ways you can spin this — depending upon what you want to believe about Andray Blatche — but here is the bottom line:
He put together his new contract extension without an agent, as reported by Michael Lee in the Washington Post.
In a move that had been in the works for some time, from what I hear, Blatche severed ties with his long-time agent, Eric Fleisher, last month. Blatche told me that before signing on Friday, he hired an attorney to help him with the legal language of the contract, which is similar to what Gilbert Arenas did when he signed his six-year, $111-million contraction in the summer of 2008.

Blatche said coming to terms with the Wizards was a no-brainer for him. He said he wanted the deal done so that he could remain in Washington, where his career began after the Wizards took him with the 49th overall pick in 2005.
Look at this one of two ways.
One, this is the growing maturity of Blatche. He knew what he wanted, he wanted stability and to be part of a franchise on the rise, and he went and got it. He worked out a deal that was fair for both sides, and choosing to do it himself was the smart way to go about it.
The other: It is not a sign of maturity to do this without an agent. Maturity is getting and agent and directing him to do what you want (he works for you) so if you want a deal with Washington, tell him to make it happen. But use a professional, who can get you a little more for your efforts.
Take your pick on those people. Your answer is a Rorschach test on your thoughts about Andray Blatche.