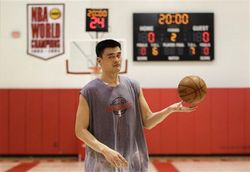 Yao Ming is impatient — he wants back on the court. Badly.
But after 18 months away from the game and a complex foot surgery he doesn't want another setback. So he may miss the first preseason game (or more) he told the Houston Chronicle.
"When I was playing some scrimmage with some of the teammates in the last two weeks, I can't say it (his surgically repaired left foot) is as good as the original one, the one on the right, but it feels as good as can be running on the court," Yao said. "The foot limits me a little bit. I still have time to get it better before the regular season starts.

"I have not played a real game, even an exhibition game. I don't know how it will react. Hopefully, we can learn as soon as possible."
The Rockets open the preseason against Orlando (and Dwight Howard) on Oct. 5 in Hidalgo, Texas. The Rockets also are without backup center Brad Miller for a couple of weeks due to a sprained ankle.
Yao, as much as he wants to play, has to remember it's the preseason. It matters less than the regular season games that start late October. And even missing those — or having your minutes limited to 24 a game to start — is not a big deal. With a healthy team and Yao come the playoffs, the Rockets are a popular dark horse pick in the West. Without him, they are not even making it that far. So rest.
Still, it sucks.