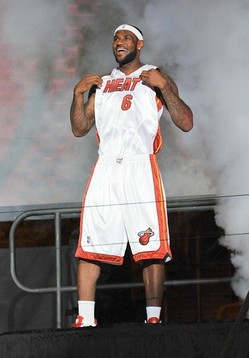 The Heat have new fans coming out of the woodwork, but the massive backlash against the assemblage of talent in Miami has been absolutely impressive.
It's understandable that people would disapprove of LeBron James' decision to ditch his "hometown" Cleveland Cavaliers for another team. It's even more understandable that people would be opposed to the way in which he announced his decision; LeBron's televised special was the epitomical act of celebrity athlete masturbation, and it should be understood that sports fans of all walks will likely resent that kind of self-congratulatory display.
Still, regardless of pomp or intention, LeBron James (as well as Dwyane Wade and Chris Bosh, for that matter) engaged in what would under normal circumstances be considered an act of athletic heroism: sacrifice.
I'm not saying any of the three should be pitied, but each player chose to give up their touches, give up money, slash their chances to win individual awards, and in the eyes of some, compromise their own legacies in the sake of something greater. Individual sacrifice for the sake of winning a championship is supposed to translate as nobility for professional athletes, and yet for these three (but LeBron, first and foremost) it's been discussed as a sign of weakness.
There should be separate reactions to each component of LeBron's summer, yet rather than treat both LeBron's decision and his Decision as separate entities, plenty of basketball fans and scribes alike have thrown all of their feelings concerning all things LeBron into a blender. He's a fool. An egoist. And apparently, as much a sinner in the basketball world as he is in the public relations one. It's all very jumbled, even if it shouldn't be.
What is it that makes the pieces of the LeBron narrative so difficult to extricate from one another? I'm not exactly sure, and judging by Miami Heat forward Udonis Haslem's response during an interview with the Joe Rose Show on WQAM in Miami (via Sports Radio Interviews), I'm not sure he is either:
"It's unfortunate because in today's society athletes get criticized for being so selfish and wanting all the money and going to a bad team just to take more money and things like that. Here you have the exact opposite where you have guys sacrifice money to go to a good team and put something together where they can win multiple championships for years to come and people still complain. For me I guess you just can't make people happy so you have to make yourself happy."
Naturally, the actions of LeBron James, Dwyane Wade, and Chris Bosh were self-motivated. They chose to, as Haslem noted, do what made them happy. That, in itself, doesn't make them "selfish," or deserving of ire. It also doesn't mean that those three players made a poor decision this summer by opting to compete with rather than against each other. It just means that all three are apparently in tune with the exact thing sports fans demand that they value. All three may be showered in glitz along the way, but they're still united with basketball success in mind.
There are plenty of reasons to dislike LeBron James or the Miami Heat, but the circumstances that brought the two together aren't a valid excuse to do either.