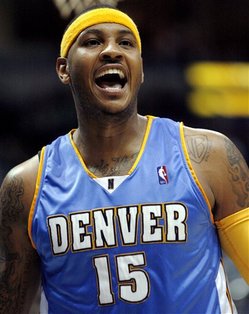 It's alright NBA heads. If a report from Conor Orr of the Newark Star-Ledger is correct, it's safe to stop checking your sports tickers obsessively for the next day or so. According to Orr's unspecified source (…sigh), the four-team deal that would send Carmelo Anthony to the Nets is at least another day or so away from completion.
There are all kinds of conflicting reports concerning the status of this deal. Orr sets a different timetable than other reporters and their sources, but most reports seem to agree on the source of the hold-up:
The main caveat continues to be Carmelo Anthony, who the person said is
more than likely the reason why the deal has yet to be finalized. Other
reports surfaced saying that the delay in negotiations had come from
other teams and players involved.
It's not an authoritative report by any means, but it's another one to stick under your pillow as the Carmelo saga unfolds.