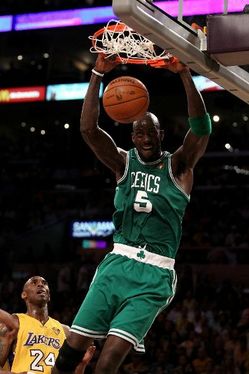 Kevin Garnett is still the beating heart and key player for the Celtics.
Ray Allen and Paul Pierce are crucial. Rajon Rondo's importance grows daily. Kendrick Perkins and the O'Neals matter in the middle. Donkey and Shrek matter off the bench.
But last season, Garnett's health determined the Celtics fate. Which is why this quote from Danny Ainge (at ESPNBoston.com) should have Celtics fans smiling.
"I think Kevin needed some rest, some time off, and he took it, but he's ready for camp," said Ainge. "He's in much better shape than he was last year in training camp. I think that KG got better as the year went on last season and we saw him moving much better in the playoffs than in the regular season."
If Garnett is healthy — if all the key parts of the Celtics are healthy — we saw last year what this team can do. It can win a title. It is certainly on the top tier with the Lakers, Heat and Magic.
KG is the key. Always has been in Boston. And if he is ready to roll, so are the Celtics.