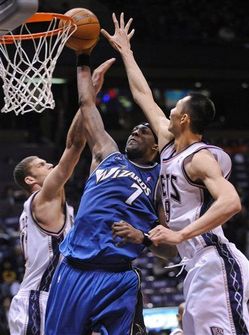 New Wizards owner Ted Leonsis has spoken about building a team through the draft, around the young players they have.
He has put his money where his mouth is — the Wizards have reached a contract extension with center Andray Blatche, according to Michael Lee of the Washington Post. Blatche had two seasons on his current deal, this is a three-year extension of that, through the summer of 2015.
Blatche has shown seemingly limitless potential for years, but only really put that in action the second half of last season, when he became a dynamic force for the Wizards. Washington is rolling the dice on that Blatche sticking around.
The Wizards got this at a fair price. Blatche will make $3.2 million this season, then $3.5 next season. This deal will pay Blatche $23 million over the following three years. That's a pretty good price for a starting center in the NBA, if Blatche can continue to produce as he did last season. Seems a fair deal to both sides from here.
The Wizards also picked up the fourth year option on JaVale McGee, as expected.
Clearly, however, the Wizards are serious about the commitment to their core.