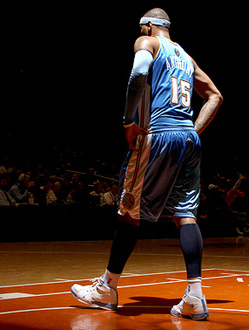 You have to say this about the new New Jersey Nets regime — they hustle.
The Nets are working feverishly to come up with a complex multi-team deal that would bring Carmelo Anthony to the Garden State (for a couple of years, and then Brooklyn), according to both Adrian Wojnarowski of Yahoo and ESPN's Mark Stein, among other reports.
The other teams involved are Utah and Charlotte. The end result would be Anthony in New Jersey, No. 3 pick Derrick Favors and Andrei Kirilenko going to Denver along with several picks, Charlotte getting point guard .Devin Harris, while Boris Diaw would end up in Utah. By the way, why Utah would do this is they would get $5 million under the luxury tax threshold.
There would need to be other players involved to make all the salaries balance out. But with training camps set to open next week, this deal is likely to happen fast or not happen at all — the Nuggets don't want every media day question to be about this trade.
There are a lot of moving parts to keep together, so don't be shocked if this fell apart, and multiple sources say there is a ways to go. But there seems to be momentum behind it.
The biggest risk here for the Nets is whether Anthony would sign a long-term deal with them. He has consistently said he preferred to go to the Knicks or Bulls. The Nets, however, have a high-profile owner and will be moving to Brooklyn in two seasons, meeting some of his requirements.
The Nets would be smart to make this an extend-and-trade — make Anthony accept the three year, $65 million Denver has on the table before the trade goes through. Could Mikhail Prokhorov convince Anthony to sign it? If so, this is a good deal for the Nets (who would give Jordan Farmar the starting PG job he has craved with this move).