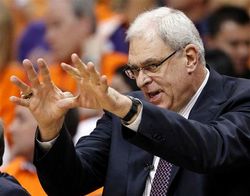 Laker fans have not been very optimistic about — or feeling very positive about — Andrew Bynum lately.
You can add Phil Jackson to that group. Here's what he said at his press conference Friday (via Lakers.com reporter Mike Trudell).
"I don't see how Andrew is going to be ready, and I really haven't anticipated him being ready at the beginning of the season. The type of surgery that the doctor did on his knee takes a little extra time. We hadn't prepared, and Andrew certainly hadn't prepared … he could have come in a little bit earlier, but the end result is what he's going to be like in May and June and that's what's important.

"Andrew had an opportunity to play under the limitations of his injury (in the 2010 playoffs), which really limited his movement and how much he could throw himself into the game and the amount of minutes he could play. Andrew really made a point to help the team to the championship, even though he was at 70 percent of what he could possibly
do, and it really helped us out."
Phil is right. Better to let Bynum rest now, come back fully healthy and be ready to go than to race back and have a lingering issue for months. We know Bynum is a slow healer. If this takes longer, so be it.
Jackson added that the Lakers encouraged Bynum to get away from the game, to go to the World Cup. He delayed surgery but was assured that the two-month healing time frame should have back in time. It took longer. Jackson was not worked up about it. Then again, he doesn't really get worked up about much.
Jackson did say that Kobe's knee is doing well and he may play a little during the Lakers European vacation this preseason (games in London and Barcelona). Even a few minutes of Kobe there will make the ticket buyers happy. He can jack up a couple unrealistic threes for them (and hit one, because he does that).