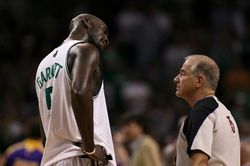 Kobe Bryant does it. LeBron James does it. Kevin Garnett does it. Much of the league does it. Rasheed Wallace did it like he was playing down at Venice Beach in Los Angeles.
Players complain about calls. Or non-calls. They throw their hands in the air in disgust even at the most obvious of calls.
Do it now, get a technical.
It's one of the changes in rule enforcement in the NBA this coming season, as the league announced this week. Players that make an aggressive gesture, and ones that are demonstrable after a call, charge at referee after a call and you get a technical. Even if you use a polite tone, if you enquirer multiple times (Derek Fisher, Ray Allen) you get a "T." It's not just words it's body language. The league laid out specific actions that get you a tech now and told the refs to enforce it.
Why the change? Because you complained.
This comes based on fan surveys, as Ron Johnson, the NBA's senior vice president of referee operations told Henry Abbott of ESPN.
 "Our players are more personally connected to fans than any other sports," Johnson said. "We don't have masks. … There's nothing you can hide on the expression of an NBA players. … People expect hockey players to be fighting. They expect baseball managers to be kicking dirt on umpires. But that's not our game. That's not what our fans want. They tell us in many many ways and I think we have to adjust to meet the needs of our league and our fans. It's a business."
Players are supposed to be able to make heat of the moment reactions, but it's the extended over the top reactions that are supposed to draw fines.
It will be interesting to see where this like is drawn. Will some referees take it to an extreme where they pass out a lot of techs, while others will be treating it like the status quo. What players want is consistency, and this seems like it will be very inconsistent.