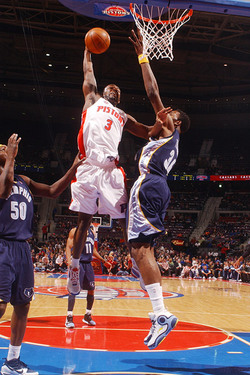 Last season: 27-55 in a season where a tidal wave of injuries washed over the squad (Ben Gordon missed 20 games, Tayshaun Prince 33, Richard Hamilton 36, and the list goes on and on). That can't happen again, right? RIGHT?!
Head Coach: John Kuester who may or may not be good, we can't judge based on last year. We do know he has gained experience juggling injury lineups.
Key Departures: Kwame Brown (consider that addition by subtraction)
Key Additions: Tracy McGrady, Greg Monroe, the amazingly athletic Terrico White
Best case scenario: A new owner that comes in just a few weeks into the season, then rather than make a ultimately needless push for one of the last couple playoff spots in the East they just start to blow it up and rebuild.
For that to happen: Piston fans are ticked at that last sentence. They see the enormous amount of injuries this squad had last season, it's history of making the playoffs not far in the rearview mirror, and they think they can get back there.
And they really could if everything goes their way. If everyone can stay healthy. If they can defend. If Ben Wallace can keep up his resurgence in the paint (which means just be solid). If Greg Monroe can give them some offense down low. If Rodney Stuckey can not only score but also set up teammates. If the backcourt can drive the offense (because it has to) with Ben Gordon returning to his Chicago shooting form. If Rip Hamilton and Tayshaun Prince can have good bounce back seasons. If Tracy McGrady has to give them something of quality.
That's a lot of "ifs," but if by some miracle all of that happens what do the Pistons get? A seven or eight seed, so they can be wiped out in five games by Miami/Orlando/Boston.
That is a fine outcome for a team building itself back up from the cellar (your Knicks, Pacers, Wizards of the world). For the Pistons, a team whose key parts are aging, that is not enough.
That's why I say it is time to move Prince and start to rebuild. (I'd want to move Hamilton, and maybe Charlie Villanueva too, but with their deals that will be more challenging.) Like the car companies around them, it is time to reinvent the Pistons. There is no reason to wait. Start playing Monroe a lot, have Stuckey as your star — play him at the point but he may really be a two because he's not a passer — and start to build this proud franchise back up.
More likely the Pistons will: Idle in place until a new owner gets in, then start the rebuilding process a little too late. But at least they start it.
These Pistons should be a little better than last year, only in that they can't have that many injuries again. They have some nice players on the perimeter. But this is a flawed team.
Kuester has to get this team to defend. If they play defense as poorly as they did last season — fifth worst in the NBA — this season will be worse than Pistons fans imagine.
Tracy McGrady will not be as big a distraction as expected, but he doesn't have much in the tank.
It's just hard to get inspired looking at this Pistons roster right now — it is below average and not young. You want more for a proud franchise and fans that deserve better, but there is just not much here to see as a good future.
Prediction: 30 wins. This team has more talent on it than it showed in the injury plagued last year, but it is fatally flawed. This team could win more games if this roster stays together, plays some defense and stays healthy. But 30 seems about where they land.