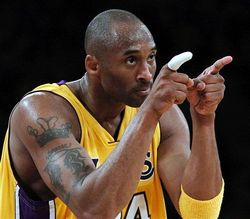 It's pretty easy to predict what Kobe Bryant is going to say about his index finger Saturday at media day:
"It's fine, it doesn't affect what I do." Ask a second question and he'll laugh and say he answered that. A third and he glares at the reporter.
But the finger is an issue — Kobe did not have surgery on it this summer as some expected. Kevin Ding of the Orange County Register explains why.
Despite some speculation that he'd have surgery to fix the right index finger that he called a "constant battle" for him last season, that didn't happen. That's because surgery wouldn't really fix an arthritic finger that has so little cartilage with which to work, something Bryant found out even before July rolled around…

An array of finger exercises is making the best of a tough situation, improving Bryant's range of motion and strength. The finger feels better than it did in June – and perhaps Bryant's daughters have come to be connoisseurs of finger puppetry – but the finger also hasn't had any 250-pound, hard-fouling dudes hacking it to make it swell.

The reality is that Bryant isn't necessarily much better off than before, because this is a chronic situation. Arthritis is the wearing down of the cartilage in the joints, and the middle knuckle on Bryant's index finger is flat-out worn down.
Kobe is going to be Kobe about this. No complaints. No excuses. He is Monty Python's Black Knight, "Tis just a flesh wound."
Kobe's shooting numbers dipped last year in the regular season — his three point shooting fell from 35.1 percent two seasons ago to 32.9 last season. Although part of that was the arthritic knee that bothered him as well.
When it mattered, in the playoffs, Kobe was Kobe again. He scored 30 or more points in 11 of the last 12 Lakers playoff games, he shot 37.4 percent from three and his shooting numbers were up across the board. He was the finals MVP for a reason.
He's still Kobe. He's still the guy you want with the game on the line. His finger is what it is, and surgery wouldn't have changed that. But nothing is changing Kobe.