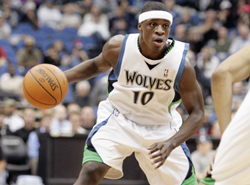 Who wants to go to Europe when you can spend time in a training room in Minneapolis?
Jonny Flynn. Well not that he wants to do that, but it's what's going to happen tweeted Jerry Zgoda of the Star Tribune. Flynn had hip surgery this summer and will stay behind to do more rehab work.
The Timberwolves will take on the Lakers in London and the Knicks in Paris this preseason.
No Flynn means more time for Luke Ridnour at the point in the preseason, getting used to the offense. Heck, that means they may even run some triangle sets for Kurt Rambis. That would be a nice change.
Flynn may well be coming off the bench for the T-Wolves this season. If so, that will be a bigger adjustment than the hip for him.