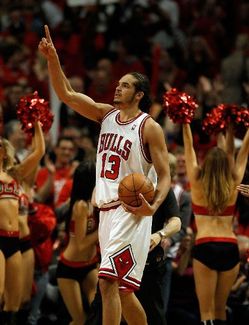 This all may be moot now, but for the record Carlos Boozer is good with the Bulls seeming to drop out of the Carmelo Anthony sweepstakes.
"I want Joakim Noah to stay," Boozer said on "The Waddle & Silvy Show" on ESPN 1000. "I don't want to see him in any uniform but a Bulls uniform….
But that Melo guy can ball…
"Carmelo Anthony is unbelievable, and hard to stop offensively," Boozer said. "We played him in the playoffs last year, and we beat them 4-2, but the two games they won he single-handedly won the games by himself.

"The thing about 'Melo is he's as pure a scorer as we have in the game, because he can do it so many different ways. He can shoot the three, can post-up, has great ballhandling ability. He's a handful to defend."
Clearly want he wants: Noah and Anthony. Gus Forman and the Bulls front office would like that, too. But it appears that is not going to happen.