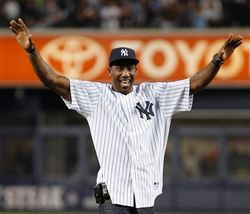 Through all of the talk and controversy around Carmelo Anthony trying to force his way out of Denver, one thing has never really been in question  — Melo can ball. He will make your team better (as long as you didn't give up too much to get him).
But just to make sure you know, Amar'e Stoudemire told Neil Best of Newsday that Anthony would be a good fit with the Knicks.
"Me and Carmelo are great friends but I'm still not sure where he's going to end up going. If he were here in New York that would be great, a great situation for us, a great opportunity for us."
Now if Anthony could just come up with a first round draft pick and another young, talented player the Knicks could ship away everything would be peachy.