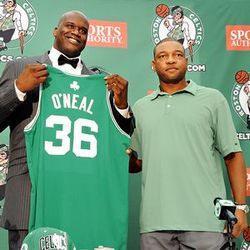 Once training camps get rolling next week, there are going to be a lot of questions around the league — and not all of them are about the Heat. Although it will feel like that for a while.
NBC's Ira Winderman put together a list of those top 10 training camp questions (outside of "What is the best place to eat in Fort Walton Beach?" which is the question much of the media is asking itself right now). Among them….
6. Can the Celtics hold it together?

Kendrick Perkins is coming back, not soon, but should be over his knee concerns by midseason.

How Doc Rivers holds it together before that will be intriguing.

Beyond Door No. 1 is Diva No. 1, Shaquille O'Neal.

Beyond Door No. 2 is Diva No. 2, Jermaine O'Neal.

Both have ambitions to be the fill-in until Perkins re-emerges, and then to slide into the primary backup role at center. Yet neither is the type to push through mundane training-camp drills or even inconsequential exhibition games.

Did Rivers really need this headache?

Camp will prove to be absorbing when it comes to whether the professionalism of Kevin Garnett, Ray Allen and Paul Pierce can rub off on the two oversized arrivals.
Other questions include "Are the Spurs dormant or done?" and "Are the Heat ready for boot camp?" Check out the entire post as just a little taste of what is to come.