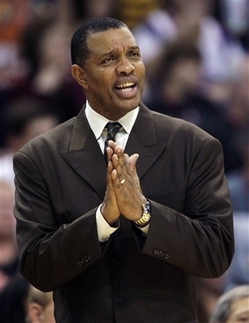 With Amar'e Stoudemire in New York, Leandro Barbosa in Toronto, and Hedo Turkoglu and Josh Childress joining the team, the Suns have made some major changes to their on-court personnel for next season. More changes may be on the way when Jason Richardson and Grant Hill's contracts expire after this season.
However, it looks like the Suns have made a long-term commitment to their coach, as they announced today that they have signed coach Alvin Gentry to an extension through the 2012-13 NBA season.
Gentry served as an assistant coach for the Suns before taking over for Terry Porter in February of 2009. Since Gentry took over the team, the Suns have gone 72-41 in 113 games. 
According to Suns President, it was "important to extend Gentry's contract before the season." Bobby went on to say that Gentry has "proved his mettle as the perfect coach for the Suns next season."
I tend to agree with Mr. Bobby. Like Mike D'Antoni before him, Gentry will now have to figure out a way to make the Suns' high-octane attack work without Amar'e Stoudemire. With the weapons the Suns still have and Gentry's commitment to a dynamic, full-speed attack, I think the Suns will remain a dangerous playoff team under Gentry's guidance.