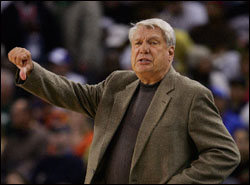 The incoming co-owner of the Warriors, Joe Lacob, told the San Jose Mercury News' Tim Kawakami that this officially will happen Monday (at Warriors media day).
"You'll have clarity on Monday," Lacob told me several times.
According to Matt Steinmetz of Comcast Bay Area, Nelson officially will resign, although that is certainly just allowing him to gracefully exit what will almost certainly be his final NBA coaching job.
The 70-year old Nelson took the Warriors over in 2006. Under his leadership, the team made the playoffs for the first time in over a decade and beat the #1 seeded Dallas Mavericks, but they have not returned to the playoffs since. In recent seasons, Nelson's rotations and behavior became extremely erratic, and his commitment to coaching the team was questioned at times. 
Nelson broke the all-time wins record late last season. His overall record as a coach is 1,335-1,063. Nelson won five championships as a player, and was named the NBA's coach of the year on three separate occasions. He was widely regarded as an innovator throughout his NBA career, and the small-ball, high-tempo offense he favored as a coach is generally referred to as "Nellieball."
The decision to part ways with Nelson was made by the Warriors' new owners, Lacob and Peter Guber. The team will have everything in place over the weekend so Keith Smart can take over before the team's first practice on Tuesday. Nelson will be paid his full $6 million salary next season.
Nelson's last few years in Golden State weren't always pretty, and many Warriors fans have been calling for Nellie to get replaced for a while now. Hopefully we can look past that for a second and see this announcement for what it is: the likely end of a legendary NBA career that spanned 48 years.