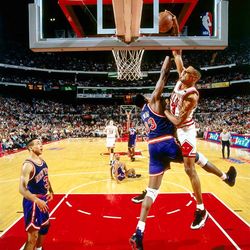 Phil Jackson got put on the radio — ESPN 1000 Radio in Chicago — with Scottie Pippen, and he sounded like a coach.
We fans have our memories of Pippen the player, the dramatic dunks and the big games. The rings. But Jackson thinks of Pippen the defensive leader.
 
The other thing that I remember probably most about Scottie was a sequence which he had to direct the defense. Scottie was our voice on defense. He had, as you can tell, a tremendous voice. He has a deep resonating voice that could be heard on the court. And he also had the ability to talk to his teammates, and send them and direct them. But we had to trap Stockton when he got over half court, and try to get the ball out of his hands. And he had to come from the farthest place on the court to trap with either Steve Kerr if he was guarding Stockton, or Ronnie Harper if he was guarding Stockton, so we could get the ball out of his hands. And then he had to get back to the other side of the court once Stockton got the ball out of his hands. I can remember him calling and directing the team during those situations. Those are the things that made Scottie not only a great player, but also a great team leader that was so important to our basketball club….

"Well, you know, Scottie was like the utility defender. Whoever we needed between one and three to defend against, we used Scottie. Although we had a variety of guys, Johnny Bach our assistant coach used to call him Doberman. Send the Dobermans out there to get him. He and Michael would go out there and attack a player on the defensive end of the court, which was always such a good asset for a basketball club to be aggressive defensively…

"Well, one of the ways we got competitive action on the court was to put the [Jordan and Pippen] on different teams and let them elevate the game in practice a little bit. We would do that maybe once a month or twice a month just to get the competitive action on the court.
Just like a coach to remember practice. But it tells a lot.