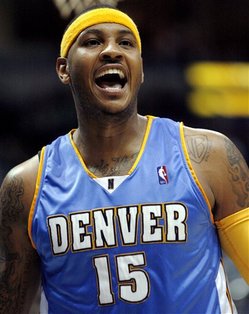 The Chicago Bulls talked with Denver, but the Nuggets demanded that Joakim Noah be part of the deal. So it fell apart.
The New Jersey Nets talked to Denver, but the Nuggets demanded that Brook Lopez be part of the deal. So it fell apart.
Sensing a pattern here?
Denver is listening to offers for Carmelo but according to Chris Broussard of ESPN, teams think they are asking too much.
Sources say Denver has been a bit unrealistic in its trade demands and may want to go to Anthony's reps with a "Hey-we-tried" story when camp begins. Denver has been trying to pawn off some of its bad contracts in any deal for Anthony.
Denver seems to want to make sure Anthony comes to camp — to make him have to deal with the questions and come off as the heavy. They can tell the
That and they want something approximating equal value back. Which sounds good on paper but something you never get when trading a superstar.
At some point Denver has to worry about is diminishing returns — as other teams GMs weary of the game and drop out, the offers might not be as good as what they have been. Toronto did that trying to trade Vince Carter back in the day.
The Nets are pushing hardest to find a way to make Denver happy, said Broussard. They made what seems the best offer — No. 3 pick Derrick Favors, Troy Murphy, Kris Humphries and a draft pick — but Denver wanted the untouchable Lopez.
So the Nets have started to look at three and four team deals. That's more than the Knicks have done. Still, those are very hard to put together and fairly rare, however. Meaning, don't bet on it.
At some point Denver and Carmelo's team of advisors are going to have to play nice, or both will get screwed. Anthony would have to leave millions (maybe $10 million or more) on the table if he won't sign an extension wherever he lands. The Nuggets could get nothing if Anthony leaves, setting the franchise well back.
If they work together they can each get a reasonably good outcome. But who knows if and when they will do that.