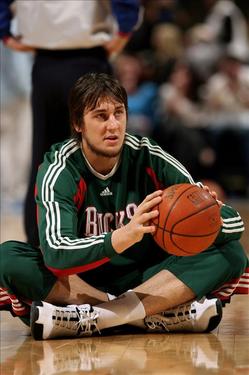 Last season: The Bucks flew through the home stretch to finish with a 46-36 record, but the train carrying deer to be feared was derailed by a season-ending injury to Andrew Bogut.
Head Coach: Scott Skiles, who lived up to his reputation as an excellent defensive coach by making the Bucks' D the second best in the league last season. He also lived up to his offensive reputation by having his team hoist up a ton of mid-range jumpers, but hey, he is who he is, and his teams are who they are.
Key Departures: Luke Ridnour, Kurt Thomas, Jerry Stackhouse, Dan Gadzuric, Charlie Bell, and any illusion that Michael Redd will play for them this year.
Key Additions:
Corey Maggette, Drew Gooden, Larry Sanders, Keyon Dooling, Jon Brockman, Chris Douglas-Roberts, and plenty of fans jumping on the bandwagon.
Best case scenario:
The Bucks again manage to surprise, this time by leaping from mid-tier playoff certainty to out-and-out contender.
For that to happen: Milwaukee will need to combine what they did well last season (defense, taking care of the ball) with what their new personnel suggest they should do well this season (scoring, getting to the line, offensive rebounding). Skiles will need to walk the fine line between relying on the players that got him this far without neglecting Maggette, Gooden, and the new Bucks.
There's a pretty delicate balance here. Worst-case, the Bucks should be about as good as they were last season. However, should Skiles manage to find that perfect balance between offense/defense, this team has the potential to be remarkable. Milwaukee may not have a name for the marquee, but they have a real star in Andrew Bogut, a talented young point in Brandon Jennings, and now a cast of both useful defenders and skilled scorers.
On paper, Milwaukee has the personnel to make for a fantastically balanced team. For every Drew Gooden, they have a Luc Richard Mbah a Moute. For every Corey Maggette, they have a Carlos Delfino. I'm not sure any NBA roster boasts a more interesting yin and yang of talented players, but I am sure that Skiles will face plenty of pressure to make everything fit just so.
More likely the Bucks will: Show notable improvement, but not enough for them to storm the East's top tier. They're good. No doubt about that. Still, it's hard to put Milwaukee into the same class as Miami, Orlando, and Boston just yet, especially considering how awkward this mix of players could be initially.
Skiles can be trusted to figure things out, and given the players he has to work with, it's hard to imagine things going too badly. That said, the far more likely outcome is the moderate one, in which the Bucks get better, but still have room to grow. There's not necessarily an issue of player maturity, but roster maturity. This is the type of roster that needs time to cultivate, and they'll get better and better as the season goes on.
The Bucks have made moves to directly resolve their weaknesses, but now its time to see if that approach still allows Milwaukee to function as a cohesive — and now comprehensive — whole.
Prediction: 53 wins and a tough out in the playoffs. I see the Bucks as the early favorites for the fourth seed in the East, but a lot of that depends on the health of the top three and the specifics of what's sure to be an interesting race between Milwaukee, Chicago, and Atlanta for home court advantage and a chance to survive the first round.
Whether or not the Bucks can end up in either the 4th or 5th seed will clearly impact their playoff lifespan. If they can dodge the East's elite in the first round, they give themselves a shot to lock down a more fitting opponent and make it to the conference semifinals. If not, they'll fight for their lives against a more talented club, and make things as difficult as possible on their way out.