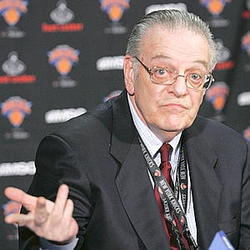 Knicks decision maker Donnie Walsh would love to get in on the Carmelo Anthony sweepstakes, but he doesn't have all the chips needed to get a seat at the table.
He doesn't have a first round draft pick (well, not until 2014 anyway, and nobody wants to wait that long).
A pick like the one he traded away last season as part of the Tracy McGrady move. Right now, Walsh admitted to Frank Isola of the New York Daily News that he is having second thoughts about that move.
"I'll second-guess myself forever on that," Walsh said of including a 2012 first-round pick in the McGrady trade. "I've always wondered about that. I didn't like it when we did it."

On Feb. 18, 2010, McGrady was traded to the Knicks as part of a three-team deal involving Houston and Sacramento. The Knicks and Rockets exchanged 2011 first-round picks in the deal, and because the Knicks added their 2012 first-round pick, they are prohibited by league rules to trade their 2013 first-round pick.
This is a Catch-22 for Walsh.
The big goal this summer was to lure LeBron James to the Knicks. Because of their roster, that was only going to happen if the Knicks could bring in a second max player (such as Chris Bosh or Dwyane Wade). The only way to do that was to clear more salary, which the McGrady trade did, so Walsh had to pull the trigger. First round pick and all.
As we all know, the main targets went to Miami, although Walsh did land Amar'e Stoudemire.
Now he needs a star to pair with him, but he needs a first round pick to make it happen. And he doesn't have one. Walsh would have one if he hadn't gone all out after LeBron, but that would have been a massive disaster with Knicks fans.
Walsh is rumored to be trying to trade for a first-round pick he can trade. That works. But he can't look back and wish he'd done something differently before. He made the only choices he could.