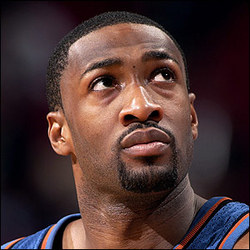 Gilbert Arenas and David Stern got together Wednesday to talk shop. I kind of like to picture it over high tea with little cucumber finger sandwiches. But that part is irrelevant.
What matters is what Stern told Arenas, as reported by Michael Lee at the Washington Post.
NBA Commissioner David Stern spoke with Arenas on Tuesday to express his excitement about having Arenas back in the league after the lengthy banishment, and he told Arenas he can talk about anything going forward – except the infamous dispute last December involving guns. Stern later called Wizards owner Ted Leonsis to inform him public comments from the organization about the situation are also off limits. Stern wants Arenas and the Wizards to put it all behind them.

"It's time to move on, rather than obsess about the past," Stern said in a telephone interview on Wednesday. "It's just that it's been discussed, and discussed, and discussed. It's been written about, and written about, and written about on each occasion – his release, his sentencing, my ruling or what have you – and at some point, it's time to move on. I think he's entitled to do that. And I'm supportive of him. We're lucky he's well and we like the way he's worked with various groups over the summer. And we think it's time. Millions and millions of dollars later, and a new season later, I think it's time to move on. And that's what I told him."
That would be the gun incident where Arenas brought guns into the locker room. Which caused Arenas to miss most of last season on suspension. Which caused Arenas to go to court and do some time (wasn't exactly hard time, but still not fun).
Reporters are going to bring it up. By talking about this publicly now, Stern gives Arenas the out — the ultimate "I can't really talk about that" card.
How Arenas chooses to play that card may be interesting. But as long as there are no more screw-ups the issue will fade some (a few wins would really help that along).