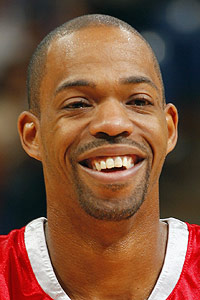 The Chinese Basketball Association may not have the same draw as more prestigious European leagues, but what it does have is a type. Stephon Marbury. Steve Francis. Maybe Allen Iverson. The CBA has become a post-NBA destination for low-efficiency scoring point guards, and according to the Hoops Market, we can now add two more prospective names to that list: Flip Murray and Rafer Alston.
The Zhejiang Lions (home of former lottery pick Rodney White and quasi-NBA big man Peter John Ramos) are reportedly interested in bringing in either Murray or Alston. The Hoops Market notes that Murray does have a few NBA offers that would dissuade him from signing in China, but Alston, on the other hand, appears to be knocking on NBA doors without anyone answering.
NBA GMs know what Alston can do, and they're not interested. They've seen him top 40% shooting just two times in 11 seasons, and that such a mark has never deterred him from firing away. Alston has pouted and caused trouble, in spite of being an infinitely replaceable player. My only concern: did all of that seriously take 11 years to discern? I suppose we have the Toronto Raptors to blame for signing Alston to a six-year, $25 million contract in 2004, but part of me is still surprised that no team tried to cut Alston loose prior to both the Nets and Heat doing so last season.
Apparently his trade value (as either contract filler or overvalued player) was just high enough to avoid such a fate.
Murray may be hanging around (which makes sense; for all of his faults, Murray is still useful as a bench scorer), but Alston seems to have been kicked out. Whether he ends up joining Zhejiang or not is his choice, but the NBA isn't his home anymore.