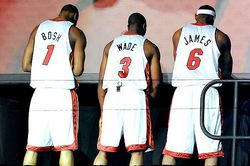 Move it from Miami to the Florida panhandle, behind the Santa Rosa Sound. Onto a military base. Which means everyone who wants to attend needs to pass a military background check.
It doesn't matter — the Miami Heat training camp will be a zoo. A four-ring media circus.
Look what just ESPN is doing, as reported in the USA Today:
Starting at the team's media day Monday and continuing when its training camp starts Tuesday at Eglin Air Force Base in Fort Walton Beach, Fla., ESPN will erect a set and parachute in analysts Jalen Rose, Josh Elliott and Jon Barry and reporters including Rachel Nichols for continuous surveillance across ESPN platforms.

While senior coordinating producer Mark Summer isn't sure ESPN will get practice video, the mission is clear with a team he says has unbelievable story lines. "Obviously, with all the buzz, it's a bigger deal (than) past NBA training camps," he says. "Fans want to hear about the Heat, so we'll want to rampup the coverage."
Pat Riley may have thought moving the training camp out of Miami would slow some media, but I think he underestimates the thirst for this story.
I hear the complaints coming in 3…2…1….
They don't deserve this. Why so much attention on a team that hasn't won anything? What about Team X? Why are you forcing this down our throats?
Don't like it, then don't read about it or watch it. In our world of 600 channels of television and an Internet full of media options covering basketball, you have choices.
Why so much Heat coverage? Because you read this stuff. Here at PBT, we get more traffic on posts about LeBron and the Heat then anything else. I'm sure it's the same at ESPN. Today's media is a true democracy and the masses vote with their eyeballs — you ask for more of it and you'll get more of it. Read a lot of something and you'll get more stories about it.
In a competitive media market we all need to provide viewers to advertisers — don't believe what they tell you your college media classes, that is what all journalism comes down to — and so we give the people what they want.
Don't watch, and it we all will move on. But since you're watching, here comes the Heat coverage. Enjoy.