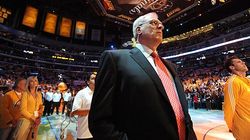 Phil Jackson knows a little something about winning titles.
He knows there are two parts to getting a ring. First is having enough talent on the roster. Second is what Jackson has specialized in — molding that talent into a cohesive team.
Jackson told ESPN 1000 in Chicago that Miami now has half of the equation, but the other half remains to be seen.
"They got great talent," Jackson said in an interview with ESPN 1000 in Chicago. "There's no question about their talent they have. But, talent doesn't always win. The team that shows the best teamwork will win it. We think that [the Lakers] have established something. But, if [the Heat] can unite — and build quickly — they might be able to do it…"

"I always refer to when Wilt Chamberlain was traded from Philadelphia to Los Angeles and that put [Elgin] Baylor, [Jerry] West and Chamberlain together — three of the top scorers in NBA history — and they never won a championship together the four years they were together," Jackson said.

"It's not always scorers and talent that wins it. But it's teamwork that does it."
The Lakers and the Celtics (and even the Magic) have proven they are teams, with talented players willing to sacrifice toward a common goal. How fast Miami learns to do that — and do it in the pressure cooker of the playoffs — will determine how quickly they win an NBA title.