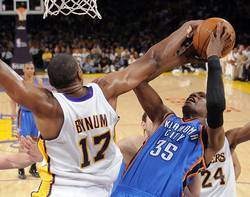 Andrew Bynum is not expected to play a minute in the preseason for the Los Angeles Lakers — it's Theo Ratliff time, baby!
What about when the Lakers open the season against the Houston Rockets Oct. 26? The Orange County Register's Kevin Ding put that to the Lakers and…
"We're hopeful that he'll be ready for the start of the season," Lakers spokesman John Black said Wednesday.
Hopeful.
That's a really vague word. One that does not inspire a lot of confidence when we're talking about a player with a history of injuries and slow recovery times.
But Lakers — and the notoriously impatient Lakers fans — need to relax and be patient here. Chill out. Take your "prescription" to that "pharmacy co-op" that just popped up down the street if need be.
If you take one thing from Boston's run to the NBA finals last season, take this — being healthy matters more than a couple of regular season wins. The Lakers will need a healthy Bynum to three-pete. Not last finals, hobbling Bynum, but an active, healthy one.
Better to make sure he is right, miss some regular season games if need be. Rest him more late in the season. Keep focused on the real prize, which has nothing to do wins in October or February.