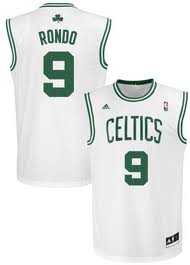 The colors, the logos will be the same but every team in the NBA is getting a new uniform this season.
The league is switching to a new Adidas-designed jersey. One the company claims will help the players jump higher. Seriously. Well, not Eddy Curry but the rest of the league. The USA Today got some insight.
The NBA Revolution 30 uniforms are 30% lighter and dry twice as fast, says Travis Blasingame, Adidas' global director of basketball apparel, in an interview with USA TODAY.

The more form-fitting uniforms also will be worn in the WNBA and at a dozen NCAA schools outfitted by Adidas, including Louisville, Kansas, Notre Dame, Michigan and UCLA.

"When you talk to trainers and equipment managers, the majority of (players) are changing uniforms at halftime because things get so wet. … We believe they are going to make guys more comfortable, make guys faster," he says.
These uniforms also will be more form fitting. Again, bad news for Curry.
Of course, you too will be able to buy these new uniforms. They go on sale today at the NBA store in Manhattan (insert your own bed bug joke here).