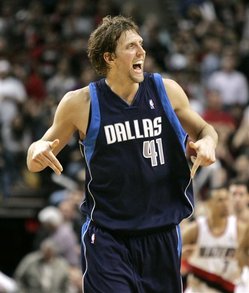 Last season Dirk Nowitzki played 2,011 minutes, 37.5 minutes per game. Almost identical to the season before that. Both of those increases from the season before that.
Every year training camp rolls around and the Dallas Mavericks talk about not pushing Dirk Nowitzki so hard during the regular season, saving him for the playoffs a little. Yet for 11 straight seasons he has played at least 35 minutes a game and played at least 77 games. He scored 25 points a game, a figure that has not dipped below 24.6 in the past six seasons. He has been the workhorse.
Once again this season, Dallas is saying it's going to be different. Both for Nowitzki and 37-year-old Jason Kidd.
Owner Mark Cuban has been touting the squad's depth. (Mistakenly he's saying that depth will vault them past the Lakers, when in reality it is the talent of the players at the top of the lineup who determine that. But that is a debate for another day.) Coach Rick Carlisle told the Dallas Morning news that depth is going to mean more rest for Nowitzki. They mean it this time.
"One of our strengths is going to be our depth and our balance," he said. "That's got to manifest itself in spreading our scoring out, getting one or two more guys in double figures and getting Dirk from 26 to 22 or 24. Getting help for Dirk is a priority for sure."

"I think Roddy [Beaubois], J.J. [Barea] and [Dominique] Jones, plus our young big guys, can all have a greater impact on our season this year," Carlisle said. "Dirk and Jason, those guys are as dependable as they come. But it's obvious we have to get their minutes down."
Great words. Sorry about this, but do you mind if we are skeptical until we see this actually happen?