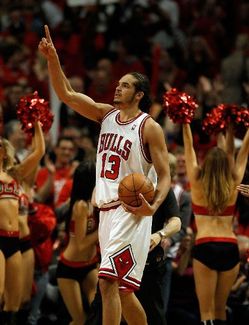 Who knows who put this rumor out there — Denver staffers trying to up the ante, Carmelo Anthony people trying to push the deal forward — but it is the debate around the league:
Should Chicago throw Joakim Noah into the deal to bring Carmelo Anthony to Chicago?
No. No. A thousand times no.
Let's be clear — Melo is a better player than Noah. Melo is a better player than Luol Deng Melo is an elite scorer, one of the best in the league, and at the end of the day the game is still about putting the ball in the basket. I love to watch Anthony play, and so would the people in Chicago.
But the deal is not Noah for Anthony straight up. It is Deng and Noah (and a pick and/or filler), and combined they bring more to the Bulls than Anthony can.
Defense would be the biggest issue — Anthony and Carlos Boozer are now your forwards, with Omer Asik now your starting center by default. Both Boozer and Anthony can be exposed on defense, as can Derrick Rose, and while Asik is nice he is not the rim-protecting beast you'd need behind those two. Noah is. In a league where protecting the paint matters more and more, trading away young mobile centers is a bad idea.
New coach Tom Thibodeau understands defense but he cannot turn water into wine — you can't make a team of iffy defenders good at it. Look at Cleveland last season, they gave a defensive minded coach (Mike Brown) guys like Shaq and Jamison and the defense paid a price.
Noah and Deng are the two best defenders the Bulls have, move them and you change the identity of this team.
And you change the roles. Which right now are pretty neatly defined: Rose is your playmaking point guard, Kyle Korver and Ronnie Brewer knocking down shots on the wing, Deng and Boozer at forward, Noah as the energy glue guy. Behind them you have Taj Gibson, C.J. Watson and Asik. That is a good roster, maybe very good.
Do you really blow that roster up to see if Rose and Anthony can play well and lead a team together? Of course they can you say… then why has Melo not made it to the NBA finals with Allen Iverson and Chauncey Billups? Anthony likes to play out of isolation sets — 36.5 percent of his shots came that way last season. And he does not pass well out of it.
Simply put — remove Deng and Noah then replace them with Anthony and the Bulls are not better, they're worse. If the deal was just for Deng and parts that would be different (although how the Bulls pay big money to Melo, Boozer, Rose and Noah in a couple years would be an issue), but once you throw Noah into the mix it doesn't work.
The Bulls are right. Don't do it. Stick to their current offer. And if they don't get Anthony what do they have? One very good team that deserves a chance to find out just how good they can be.