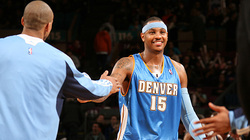 If you're wondering why so many — and at times conflicting — rumors are coming out about the Carmelo Anthony trade situation in the last few days, here's your answer.
Anthony and his CAA team (led by agent Leon Rose) have stepped up to pressure a move before training camp starts, according to ESPN. And the two teams on the top of his list are the Knicks and the Bulls.
None of that is new, this is just a renewed effort to get things done now.
Denver, however, remains in no rush. There are some within the organization that want to make one more push to keep him, to their mind having him around his teammates and the city (and George Karl) gives them one more real chance. The Nuggets three-year, $65 million contract extension offer is still on the table.
In addition, bringing Anthony to camp will make him look like the bad guy, make him the focus of frustrated fans and not the organization. Anthony would like to avoid that, the Nuggets have no such interest.
What's more, being patent right now might put pressure on teams interested in Anthony to up what they are offering. Denver wants young players and picks to speed along any rebuilding process they would have to start by moving Anthony.
Four teams seem to really be in play — Chicago and New York on Melo's end, with Houston and New Jersey in the mix as well.
As for when something might go down, don't expect Denver to be swayed much by the latest pressure.