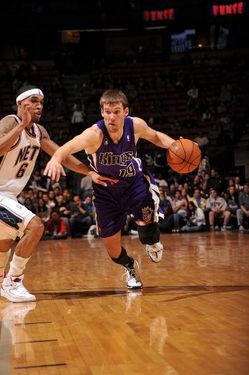 Near the end of last season, Beno Udrih seemed to figure out how to make it work in Paul Westphal's Sacramento.
Granted, Kevin Martin and Sergio Rodriguez were gone, and Tyreke Evans missed some of those games with an injury. Still, the comfort level was unmistakable.
This season, Westphal told the Sacramento Bee he is expecting even more.
"He made a good case for being a starter (this season), and looking at the makeup of our roster now, that's how I view him," Kings coach Paul Westphal said…

"Everyone's always on trial in the NBA," Westphal said. "Instead of pouting about it, he accepted the challenge and carved out a nice niche for himself."
Evans is the guy who will have the ball in his hands, the guy who will be the playmaker. Udrih last season took 57 percent of his shots from beyond 16 feet and was doing so more in catch-and-shoot situations, and that led to his most efficient scoring season ever. If he can build on that, there is a role for him on the up-and-coming Kings.