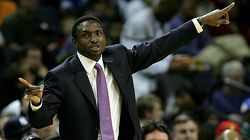 New Jersey Nets fans did not show up with bags over their heads last season. Mostly, they just didn't show up.
But the Nets were embarrassed by a 12-win season. New coach Avery Johnson knows about that — he grew up in New Orleans a Saints fan. Where fans wearing bags over their heads was as common as beignets.
Johnson likes that Nets/Saints parallel — because the Saints have turned it around and are the defending Super Bowl champions. He talked about it at a media lunch, with quotes via the Nets official site.
"I'm cautious, but I'm optimistic. That's where we are. Unlike the Saints, this franchise has been to the Finals two times. But the last few years have really been some tough years for us. I just feel it's a brand new day for Nets basketball. It's a new era and we'll get that started on Saturday.

"More than anything, we're going to work," he continued. "We're going to work hard and we're going to help these players to get better individually. Hopefully, collectively we can be a good team. There are not going to be many nights when we're going to be the most talented team out there, or the most experienced team out there. But we can make up for that with the way we work hard and pay attention to detail and (have) discipline and with guys just making plays."
The Nets should be better this season. Maybe even dangling their feet in the playoff race better (although our PBT preview has them at 34 wins).
But the attitude is a good one, the Saints a good model. It took them four years to reach the summit under a new coach. Start building, work hard and things will start to turn around. It may take a few seasons, and that may be longer than owner Mikhail Prokhorov wants to wait, but teams are not rebuilt overnight. (Except in Miami and Boston.)