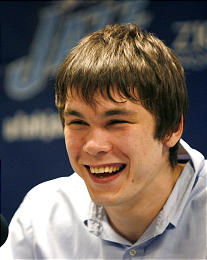 The Utah Jazz are a little tired of waiting.
They have had the $1.1 million qualifying offer for Kyrylo Fesenko on the table for more than two months. Fesenko hasn't signed it, trying to get another team — Houston and Cleveland have had serious talks — to make a better, longer-term offer.
Because the Jazz could and would match any reasonable offer, no team has made one. Yet.
So we have frustrated sides, Jazz GM Kevin O'Connor saying he has an "issue" with Fesenko and no action, according to the Salt Lake Tribune.
Asked if he expects Fesenko to be signed by the start of training camp next Tuesday, O'Connor said: "I'm not optimistic or pessimistic. We just have to wait to see what happens."
This situation hits a number of players — in a true open market they might make an offer for Fesenko, but because the Jazz likely will match any offer, teams shy away from making one.