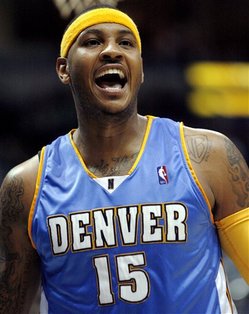 The fast moving efforts to trade Carmelo Anthony — which now looks like it could happen even before training camps open — means the Knicks need to move on to Plan C.
Or maybe it's Plan Y at this point. They have had a lot of dashed plans.
Once the Knicks lost out on the LeBron James sweepstakes, they changed gears and went with Amare Stoudemire. Then toasts at Carmelo Anthony's wedding this summer had Knicks fans dreaming of their own superteam — Anthony, Chris Paul and Stoudemire.
Consider those dreams dashed, as multiple New York papers are reporting that the Nuggets told the Knicks no deal. This is how Jonathon Abrams and Howard Beck put it at the New York Times.
In preliminary conversations, the Nuggets have told the Knicks that they do not possess the assets they are seeking if they decide to trade Anthony, according to a Knicks official. The official did not want to be identified because he was describing private conversations between the teams.

For the moment, the Knicks are left hoping that Anthony remains in Denver through this season, which would allow his contract to expire. If that happens, the Knicks could then pursue him in free agency with cap room that will be created by the departure of Eddy Curry.
The Nuggets hanging on to Anthony seems more unlikely by the minute.
The Nets appear to be the frontrunners for Anthony, but teams from Golden State to Houston are trying to get in the exclusive club to make their pitch. Really, 29 teams would like to get into the club.
But the bouncer has stopped the Knicks at the door. They are now just spectators to the process.