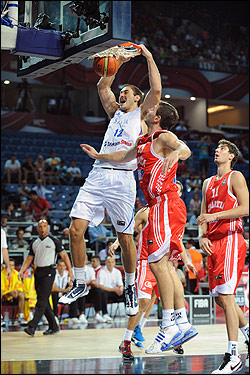 Oklahoma City had more than just Kevin Durant and Russell Westbrook in Turkey for the World Championships, there was also Nenad Krstic from Serbia.
It was Serbia that sent Spain packing, lost in dramatic fashion to Turkey in the semi-finals and finished fourth after losing the bronze medal game to Lithuania.
In that final game, Krstic fractured the index finger on his shooting hand, and Monday he had surgery to repair it, according to a tweet from Darnell Mayberry of the Oklahoman. He will miss training camp but should be ready to go for the regular season.
Not ideal, but Krstic is not a guy the Thunder count on to score a lot. If he can rebound, defend and play some solid minutes off the bench, all will be good.