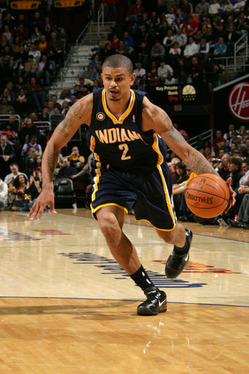 Earl Watson has game made for the background. He's not a bad player. Sub-average, really, but not bad. He's spent most of his career as a reserve, and has typically managed to hold down the fort while his team's regular point man sips on Gatorade.
When Watson is asked to do more than tread water (See: 2010 Pacers, 2008 Sonics) however, he flounders. His mistakes — the kind you live with from a backup but can't stand from a starter — become glaring, his couple of points and assists here and there in limited stretches don't translate to bigger minutes, and Watson's limitations take the forefront.
Without that kind of responsibility and extended burn, Watson is a nice player to have around. According to Marc Spears of Yahoo Sports, Watson will be a nice player to have around in Utah; Watson and the Jazz have agreed on terms to a guaranteed deal, and he'll have a chance to compete with Ronnie Price for Deron Williams' scraps.
It's tough to peg the '10-'11 Jazz. So much of their season depends on how quickly Al Jefferson can pick up the flex, and whether Andrei Kirilenko and Paul Millsap can carry more of the offensive load. On top of those concerns, Utah's depth on the wings has evaporated, as Kyle Korver, Ronnie Brewer, and Wesley Matthews have all fled for other squads.
Signings like this one (in addition to the Raja Bell pick-up) help to partially offset that loss by filling backup minutes at other positions, but the roster turnover should knock the Jazz down a peg nonetheless. Their current shooting guard and small forward options are a definite drop-off from their '09-'10 counterparts, and that deficit combined with the integration of new personnel, and a shortened campaign out of Mehmet Okur could conceivably push Utah out of the tight playoff race in the West.