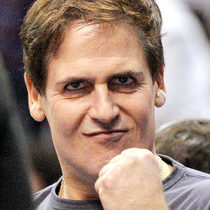 Back in 2009, the insider trading case against Mavericks owner Mark Cuban was thrown out of court. Now it is back.
A federal appeals court revived the case today, sending it back to a lower court for further discovery and then to proceed from there. That could include a trial. Here is the AP's breakdown of the case.
The SEC's civil lawsuit accuses the Dallas billionaire of selling shares in the Internet search engine company Mamma.com Inc. in 2004, avoiding a $750,000 loss after receiving confidential information about the company.

U.S. District Judge Sidney A. Fitzwater dismissed the lawsuit in July 2009, ruling that Cuban never agreed he could not act on his confidential information that the company was going to offer stock to private investment companies at a discounted rate.

The 5th U.S. Circuit Court of Appeals in New Orleans, however, said in its ruling Tuesday that it was "plausible" Cuban knew he was not to sell his shares until after the announcement of the offering.
Cuban released a statement through his attorney saying he was disappointed in the ruling.
Here's the only thing we know for sure now — some attorneys are about to get paid a lot more money for this case.