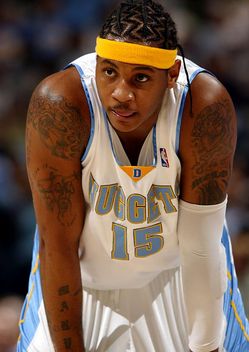 There are almost more rumors about Carmelo Anthony out there than there are people laughing at David Hasselhoff after last night. Almost.
We're going to talk about some key ones, but first we start with the trade rumor primer, just as a reminder: Every leaked rumor has a motive behind it. Nobody at this stage is telling any journalist something because they think the public should know (or because they like him or her), it's because they want to put some pressure on someone in the negotiations. Say something to get another side to either up the offer or back off. Just read every rumor through that prism.
The one thing that seems consistent across all the chatter — this is not going to happen fast. Not before camp opens, maybe not before the season opens. Although that is a change from 24 hours ago, so who knows. Still, might want to get comfortable, we could be at this a while.
ESPN's well plugged in Chris Broussard (remember he was in the mix on LeBron to Miami) said in a series of tweets:
Rt now looks like Den will bring Melo to camp unless someone blows it away with a trade offer.

Nuggets hope a hot start will convince Melo to stay – or maybe they can trade for another star that will keep Melo in Den.

In meantime, Den will keep listening to offers. Nuggets wanted Lopez from NJ, but Nets know they got no chance of keeping Melo w/out Brook.
We should say it is possible Anthony remains in Denver, but that is not what anyone we've spoken with thinks will be the likely outcome. The league seems to expect a trade.
There is no way that New Jersey will or should throw Brook Lopez in the trade mix — one-on-one Anthony is a better player than Lopez but you need both to really build something. And the Nets are building. There also are questions if Anthony would sign there anyway.
The Rockets are talking to Denver but Kevin Martin is not part of the discussion, according to Sam Amick of FanHouse. If he's not in, I'm not sure what Houston really can offer that Denver would want aside the Knicks first round pick (something the Knicks could really use themselves).
The Nets reportedly offered No. 3 pick Derrick Favors, Troy Murphy and picks. Which sounds like the best offer, if it is real.
The other rumor out there — from Broussard and multiple other sources including the New York Times — is that the Bulls are out because they will not put in both Luol Deng and Joakim Noah. Nor should they — you would need Noah's defense at the rim to cover for the iffy defense of Boozer and Melo anyway.
Denver is apparently asking for a lot right now. And they should. It's early in the game and there is no real pressure — they can bring Anthony to camp, he'll say he's not talking about it and then it will be a moderate distraction (sort of like it was for the Cavaliers last season). Maybe Anthony will change his mind.
But that pressure will build — the Nuggets know if Melo will not sign an extension in Denver they have to move him, and as things get closer to the trading deadline teams are more likely to lowball, knowing Denver has to make a move.
Anthony wants an extension under this CBA, which would likely mean an additional $10 million or more than what he can get next summer. Denver doesn't want to decimate the franchise. It's one big game of chicken, but it's early and nobody is close to blinking yet.