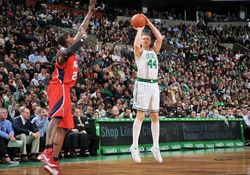 We tried to prepare you for this Celtics fans — the Brian Scalabrine era in Boston has come to an end.
The team's victory cigar at the end of its bench has signed a make-good deal with the Chicago Bulls and will attend their camp, according to Adrian Wojnarowski of Yahoo.
This came about because new Bulls coach Tom Thibodeau pushed for it. For a couple reasons. One is that he wants an inside-out offense, with Carlos Boozer and the slashing of Derrick Rose getting the ball in the paint. Scalabrine can still knock it down, he is a 35 percent career guy from three.
Second, he knows Thibodeau's system. It helps coaches to bring in a guy or two from their past gig to help the new team learn the ropes. Scalabrine can do that.
He'll have to earn his spot on the roster, but if the coach is backing you it's a good start. Terms of the deal were not released but you can safely bet league minimum.