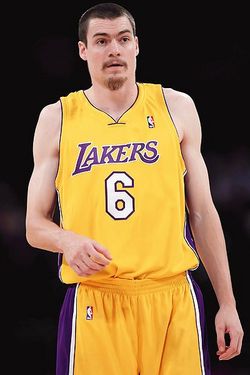 Adam Morrison will be in the Wizards training camp on a make-good contract, trying to earn his way back onto an NBA roster, that according to Michael Lee of the Washington Post.
Morrison was last seen in street clothes, as part of the last two Los Angeles Lakers title teams. While players raved about his ability to knock down shots in practice, he didn't do that well when he got some run in games. He also was not an impressive defender. Morrison scored 11 points a game (but inefficiently) his first season in Charlotte, then in his second season a knee injury took him down. He has never been the same since.
Morrison conducted a number of open workouts in Las Vegas during Summer League, giving teams a chance to see what he still had in the tank. He told Lee he wanted to go to a team where he had a chance to get minutes and some rhythm back.
"I haven't played basically in two years, so I'm just looking for a place to get some quality minutes and try to get back in that rhythm again," Morrison said in Las Vegas.
In a more open, running Washington offense it's not impossible to see the old Morrison in sort of a Mike Miller/Jason Kapono role, running the floor straight the arc and knocking down shots. Except he is going to really have to prove he can knock down those shots under pressure still, that he has the conditioning and mental toughness to really make it on a building team.
The Wizards have some roster spots available to players that earn it. Morrison is at least getting another shot, we'll see if he can knock it down.