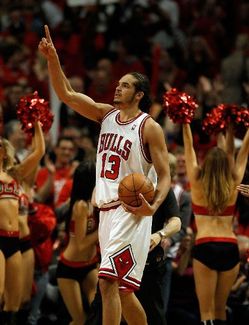 With the thin front line USA Basketball this summer — a lot of top names said no then Amar'e Stoudemire, Brook Lopez and David Lee couldn't play — Jerry Colangelo was calling everyone and anyone. JaVale McGee got multiple chances to make the team. Lamar Odom was the starting center. They were looking around.
That included a call to Joakim Noah. But Noah said no, he wants to play for France, according to an interview in a French paper (translated by Hoopsnotes).
"Cameroon (where his great-father is born) and Sweden (land of his mother) also called me," Joakim Noah said to the Journal du Dimanche. "I was pleased to be contacted by Team USA, which searched valid centers. It could have given me the possibility to play with great players. But I repeat it: I want to play with France, it's my dream."

"That would make my great-mother really happy and I want my family to be proud. This summer, I was in a difficult situation. But I'm coming next year and I will use my blue jersey."
Next summer France will play in a qualifying tournament for the 2012 Olympics in London. In Turkey, France was without a number of NBA players — including Tony Parker — who will make that team much more formidable in future events.