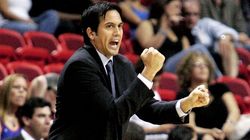 There has been plenty of backlash after the Miami Heat's summer moves — LeBron's Q score fell, guys from Magic Johnson to Stan Van Gundy took shots, while other teams throughout the league have grit their teeth when talking about the franchise.
It's fashionable to hate the Heat.
Coach Erik Spoelstra couldn't care less. Other teams didn't have the cojones to pull off what the Bulls did, that's basically what he told the Associated Press.
"Every single franchise in this league, if they had the opportunity to sign three players the way we were able to, they would have without any hesitation," Spoelstra said Friday in an interview with The Associated Press. "So everything else that everybody is saying, at first it was hard for us to understand. But that's how this team is going to be viewed."
Spoelstra also is not going to escalate the war of words.
"I'm not going to comment on other teams," Spoelstra said. "And other teams have enough issues of their own to get ready for the season, without worrying about what we did or what we're doing, to keep them busy."
Or to phrase it another way: Shouldn't other teams be figuring out how to beat us?